Organic MCT Powder
$29.99
Nutiva Organic MCT Powder starts with our Organic MCT Oil, which is made from 100% organic virgin coconut oil. To ensure that the quality fats blend perfectly into any beverage, we add prebiotic acacia fiber and a small amount of tapioca maltodextrin to deliver the same goodness in powdered form. NuMCT™ is simply pure, clean fuel with zero net carbs.

Store in a cool, dry place. No refrigeration required.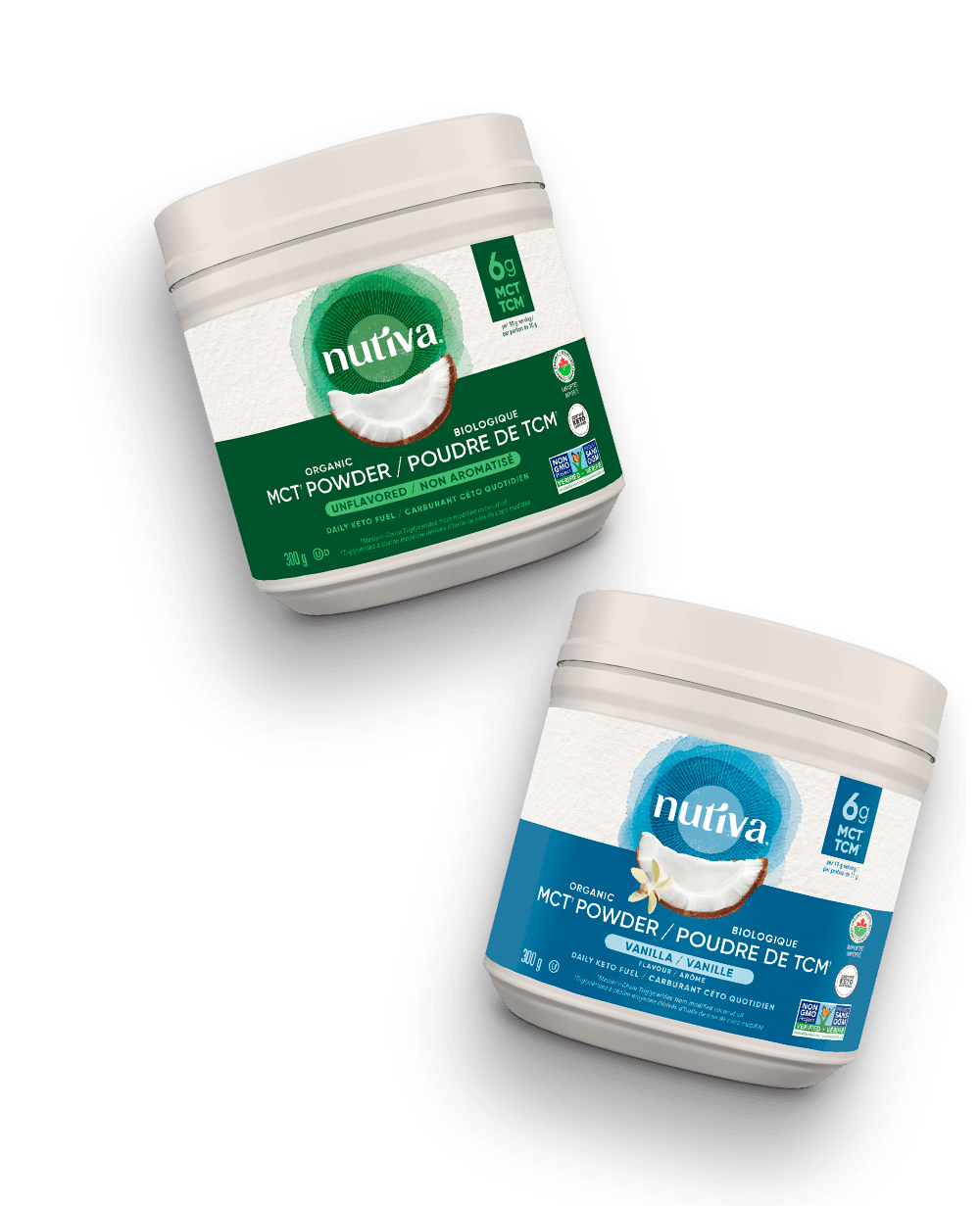 Get MCT Power in Powder Form
Nutiva Organic MCT Powder delivers digestible fatty acids that quickly convert to ketones, giving the brain, muscles and other tissues fast and sustained energy. A creamy alternative to Nutiva Organic MCT Oil, MCT Powder is easier to blend in beverages and is more gentle on the digestive system. 3g of fiber from prebiotic acacia fiber keeps your gut happy and healthy, while maintaining 0g net carbs.
frequently asked questions
What are MCTs?
MCTs, or medium-chain triglycerides, are digestible fatty acids found in coconuts that quickly convert to ketones, giving the brain, muscles and other tissues fast and sustained energy.
How is Nutiva Organic MCT Powder made?
Using our patented USDA Certified Organic process, we remove the solid fat (lauric acid) from our Organic Virgin Coconut Oil, leaving high levels of capric and caprylic acids. This process creates Nutiva Organic MCT Oil. To further enhance health benefits, we combine our Organic MCT Oil with organic tapioca maltodextrin (a fancy word for starch) and organic prebiotic acacia fiber before 'spray drying' it. This process is completely organic and does not use chemicals.
Are there nutritional differences between our Organic MCT Oil and Organic MCT Powder?
Both forms of MCT make for great dietary supplements. Our Organic MCT Oil has 13g MCTs, 0g trans fat and cholesterol per serving while our Organic MCT Powder has 10g MCTs and 0g carbs per serving. Because Nutiva Organic MCT Oil is slightly more concentrated, we recommend that you work your way up to a full serving so that you don't upset your stomach. Our Organic MCT Powder, on the other hand, is easier on the digestive system and a full serving can be consumed right away.