ingredients
2 cups corn kernels, frozen
 2 cups zucchini
1.5 cups cherry tomatoes, halved
 ½ large lemon, juiced
 Arugula, as desired
Basil, to taste
Salt, to taste
Pepper, to taste
instructions
1. Cut zucchini in half lengthwise, then chop into ½-inch pieces. Set aside.
2. Sauté corn and zucchini in Nutiva Organic Coconut Oil with Butter & Garlic Flavors on medium for 10-15 minutes.
3. Add cherry tomatoes, then sauté for another 1-2 minutes.
4. Remove from heat and add lemon, salt, and pepper.
5. Place over a bed of arugula and serve with basil as desired.
We created this Warm Summer Salad as a way to transition from winter to spring.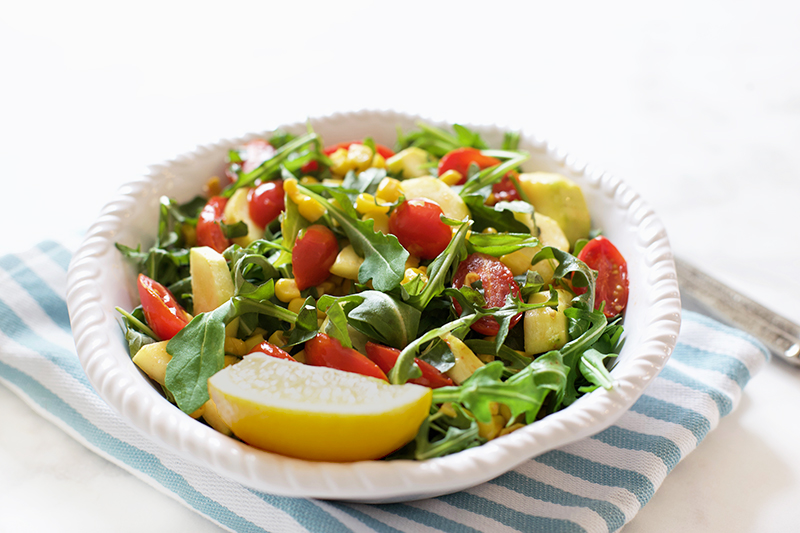 As we start breaking away from the warm, comfort foods and into the lighter fares, a Warm Summer Salad proved to be the perfect mashup.
You can bring the following three main ingredients to life by simply infusing them with fresh-squeezed lemon and Nutiva Organic Coconut Oil with Butter and Garlic Flavors: corn kernels, zucchini, and baby tomatoes.
Arugula is on our Eating with the Seasons: Spring list, so it made for a wonderful bed to lay the warm salad over.
Alternatively (or in combination with), you can pair this warm salad with rice for a light and fresh, spring bowl.
No matter what you choose, this Warm Summer Salad will not disappoint.