Vegan Ramen Noodle Lettuce Wraps – a Vegan spin on the classic Lettuce Wrap, that includes colorful vegetables and rice Ramen noodles – are just what your day is calling for!
instructions
1. Make Ramen noodles according to instructions, and set aside.
2. Place broccoli, peppers, carrots, and Refined Coconut Oil in a medium cast iron pan. Saute for approximately 6-7 minutes, or until all veggies are softened.
3. Reduce heat to low, then add the Ramen noodles, salt, and pepper for one minute, and stir together.
4. Remove from heat and scoop the desired amount of noodle mixture into each lettuce wrap.
5. Serve with cashews and avocado.
Everyone loves a great Ramen Noodle Bowl. They also love a great Lettuce Wrap. We thought it could be a perfect marriage of the two, and our assumptions were correct.
These Vegan Ramen Noodle Lettuce Wraps are incredibly good, super simple to make, and will leave you heading back for seconds, thirds, and more.
To make them, we combined a few of our favorite ingredients like fresh, organic and vibrant vegetables, Lotus Foods Organic Millet & Brown Rice Ramen Noodles, and tossed it all together with the Nutiva Organic Refined Coconut Oil.
Why did we choose to use the Refined Coconut Oil? Because sometimes we prefer a recipe with no trace of coconut flavor.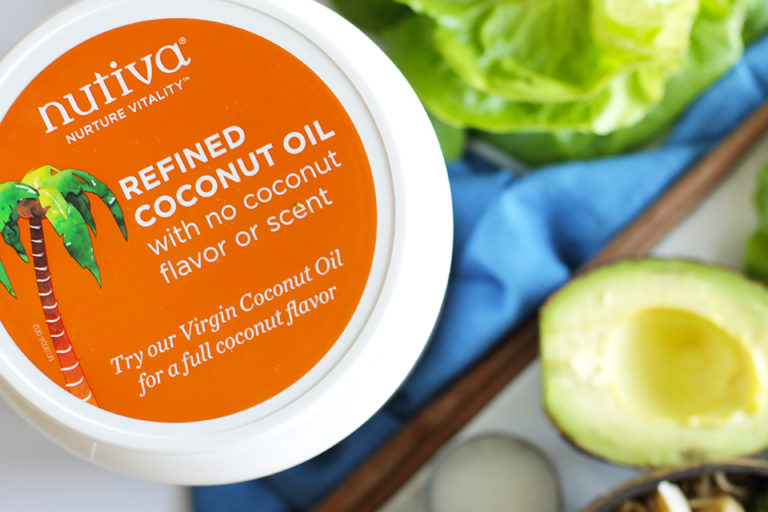 That is one reason you might choose Refined over Virgin Coconut Oil. To learn more about the differences between the two read Virgin vs Refined Coconut Oil 5 Things You Need to Know.
Regardless of which coconut oil you prefer, you can't go wrong with this recipe.
Interested in a great Vegan beverage to accompany the Vegan Ramen Noodle Lettuce Wraps? Try this Honeysuckle Horchata or Peach Smoothie. For the perfect Vegan Ramen Noodle Lettuce Wraps Sauce try our infamous Thai Peanut Sauce.