ingredients
Crepes
⅔ cup Organic Coconut Flour
⅔ cup arrowroot flour
⅓ cup melted Organic Virgin Coconut Oil
⅓ cup hot water, plus 6 tablespoons cold water (to bloom gelatin)
1 ½ tablespoons lime juice
½ teaspoon baking powder
½ teaspoon sea salt
2 tablespoons Vital Proteins gelatin
Strawberry Rose Chia Seed Glaze
16 oz strawberries washed with tops removed
2 tablespoons rose water
3 packets monk fruit powder
1 tablespoon Organic Chia Seed
1 tablespoon water
1 small pinch of sea salt* (optional)
Rose Cream Filling
2 cups dry cashews (soaked in water overnight, then drained)
Juice from 1 small lemon
2 tablespoons Organic Coconut Manna
2 tablespoons water
1 tablespoon rose water
2 packets of monk fruit powder
2 tablespoons cassava syrup or maple syrup
1 small pinch of sea salt* (optional)
instructions
Crepes
1. Bloom Gelatin by adding water and rose water to a small dish with the gelatin powder, and stir with a fork until absorbed.
2. While the bloom is happening, melt coconut oil in a small pot on the stove on medium-low heat for 1-2 minutes then set aside.
3. Spoon the bloomed gelatin into a blender and pour in the hot water blend until frothy.
4. In one bowl, place salt, baking powder, coconut, and arrowroot flour.
5. In another bowl, place lime juice, melted coconut oil, and frothy rose gelatin mix.
6. By the ½ cup add the dry into the wet and incorporate fully.
7. Form same-sized balls (you should be able to make 12 balls). An ice cream scoop works perfectly for this.
8. Lay the balls on plastic wrap and cover with plastic wrap and set aside( not in the fridge), and then move onto the glaze and cream.
Strawberry Rose Chia Seed Glaze
1. In a small dish add the chia seeds, rose water & water.
2. Stir and let bloom/gel for 5 minutes (while you make the cream).
3. In a blender add the strawberries, salt and monk fruit powder.
4. Blend until smooth.
5. Whisk in the chia gel.
6. Pour into a mason jar for easier assembly and storage later (if any is left!)
7. Set aside.
Rose Cream Filling:
1. Make sure the Coconut Manna has been emulsified. If it has not, simply boil water, set the Manna inside a bowl and fill just below the lid.
2. Put drained cashews into a food processor, add the emulsified Coconut Manna and lemon juice, and process.
3. While it's processing, add the water, rose water, monk fruit, and syrup.
4. Scoop into a mason jar for easier assembly and storage later (if any is left).
Making the Crepes
1. Make perfectly round discs out of all 12 balls, set aside.
2. Tear off two pieces of plastic wrap, about 8 by 10 sheets.
3. Space 2 dough discs in between the plastic wrap and with the palm of your hand smoosh them down a bit. Then use a rolling pin.
4. Working one by one, roll from the middle out. The edges separate a bit, and you can pinch and tuck them into place.
5. It's not easy to make the perfect circle, but on average they should be 3.5 inches in diameter.
6. Heat 1 tablespoon plus more as needed of coconut oil in a skillet.
7. Put the raw flattened dough onto the skillet with heated oil.
8. Cook each side for about 1.5 – 2 minutes each.
9. Do this for all, then fill with cream and top with glaze.
10. Serve and enjoy!
If you're searching for a low carb, grain free, extra yummy breakfast, our Strawberry Rose Crepes will be just what you need!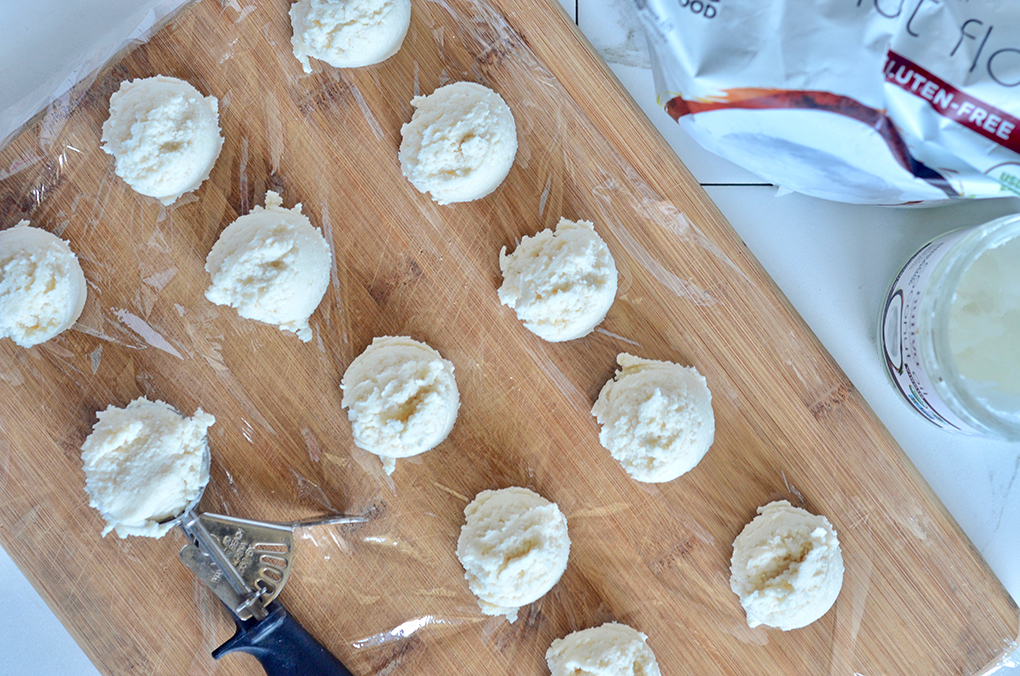 With its slightly crisp edges, dairy-free cream filling, and rosy red glaze, your eyes might just be bigger than your stomach!
A perfect breakfast for everyone, these crepes will have your heart singing a happy song while you enjoy this nourishing breakfast.
Strawberry Rose Crepes
Click HERE to save this recipe for later.

Grab the organic coconut flour, and let's dig in!
Interested in more breakfast ideas? How about a Dragon Fruit Smoothie Bowl, Loaded Mushroom Quiche Cups with Purple Potato Crust and/or any of these 23 pancake recipes!