A dairy-free chocolate peanut butter recipe lightly sweetened with coconut sugar and boosted with the subtle crunch of cacao nibs.
ingredients
2 cups dry-roasted, unsalted peanuts
2 Tbsp Organic MCT Oil
1 Tbsp organic, raw cacao nibs
1 Tbsp organic coconut sugar
1 tsp organic, raw cacao powder
½ tsp Fleur de Sel
instructions
1. Place peanuts and 1 Tbsp MCT Oil in a food processor. Blend until creamy.
2. Add the rest of the ingredients, except the Fleur de Sel and cacao nibs, and blend until completely mixed together.
3. Finally, toss in the Fleur de Sel and cacao nibs, and blend for about 10 seconds until blended.
4. Remove finished product, and place in a glass jar.
This Purely Cacao Peanut Butter recipe needs a little back story.
My name is Sarah Kay Hoffman, and I am the Content Editor at Nutiva. I have worked for the company going on four years now, but have been a Nutiva customer and fan for several years prior.
Somewhere between writing and creating for Nutiva and real life events, I tested, developed, and launched my own company A Loving Spoon nut butters.
Through the company, I wanted to create dessert peanut and other nut butters that people would enjoy by the spoonful on a daily basis without having to worry about the integrity of ingredients.
The entire line of nut butters always remained gluten, dairy, and soy free and I never added any extra chemicals, preservatives or additives.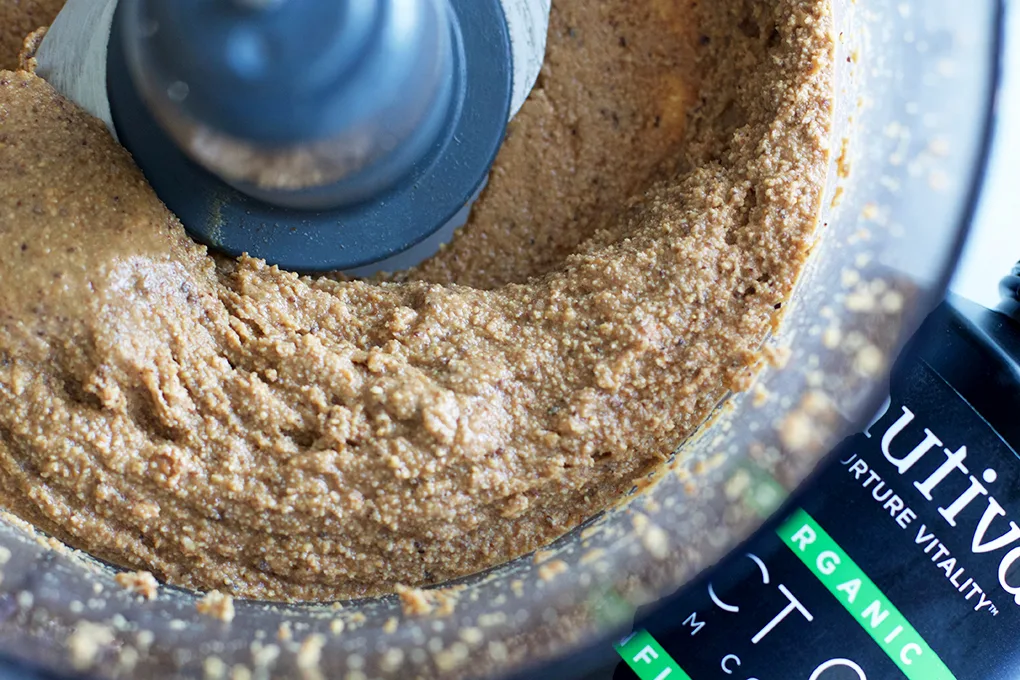 Instead, I used things like pure vanilla extract (not vanillin), Nutiva Organic Coconut Oil, raw cacao nibs and powder, raw honey, Nutiva Organic Coconut Sugar, Fleur de Sel, and more.
The company's signature nut butters included the Honey Roasted Peanut Butter, Honey Vanilla Bourbon Peanut Butter, and Purely Cacao Peanut Butter.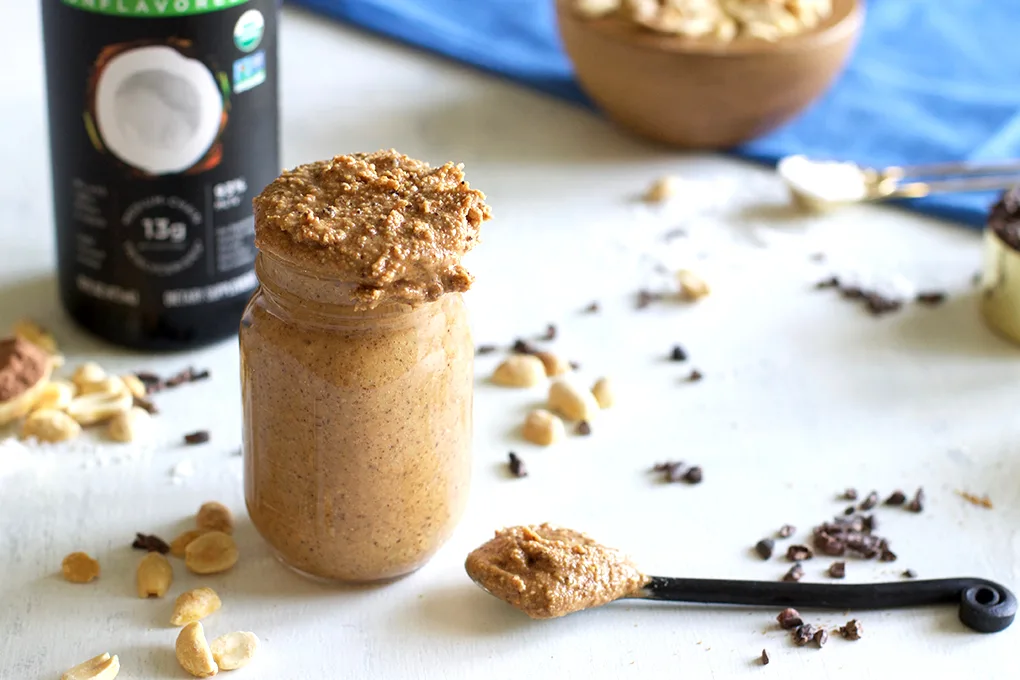 Although I do not run the company anymore, we did make the decision to give out our exclusive recipes via e-book (which includes all ingredient sources). In the e-book, you will find full recipes for:
Honey Vanilla Bourbon Peanut Butter
Honey Roasted Peanut Butter with a touch of Fleur de Sel
Purely Cacao Peanut Butter
Salted Cinnamon Almond Butter
Java Almond Chip
Carrot Cake Walnut Butter
Samarah's Cinny-Vanilly Peanut Cashew Butter
But the flavor on all our minds today is the Purely Cacao Peanut Butter.
This is the same exact recipe as the one you would find in the e-book. The only difference is that I swapped regular coconut oil for Nutiva's new Organic MCT Oil. (Click HERE to save these simple ingredients for later.)
Why? Because I made a Raspberry Chia Seed Jam (boosted with Organic Chia Seed, of course) and wanted to pair it with peanut butter (boosted with Organic MCT Oil, of course).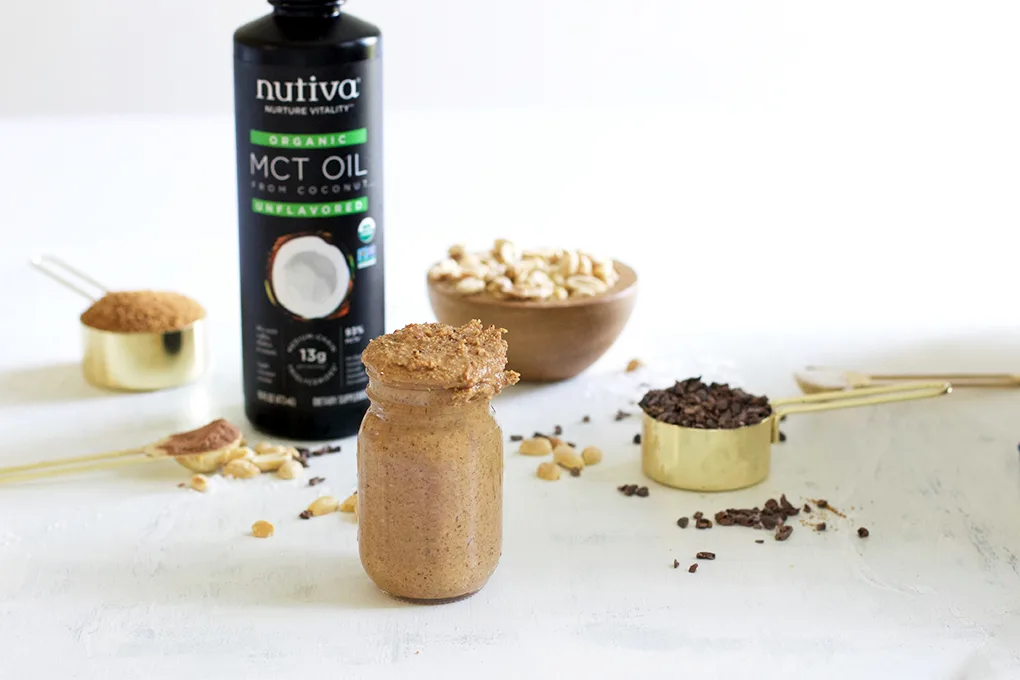 The final product turned out absolutely amazing.
Give it a try, and you'll see!
purely cacao peanut butter
Click HERE to save this recipe for later.

Looking for more nut butter recipes? Try the MCT Cashew Almond Nut Butter or Coconut Hempseed Spread.
To get more free recipes of mine, all of which are gluten free and many of which use Nutiva product, click HERE. To follow along with the daily eats via photos and video and overall wellness lifestyle, click HERE.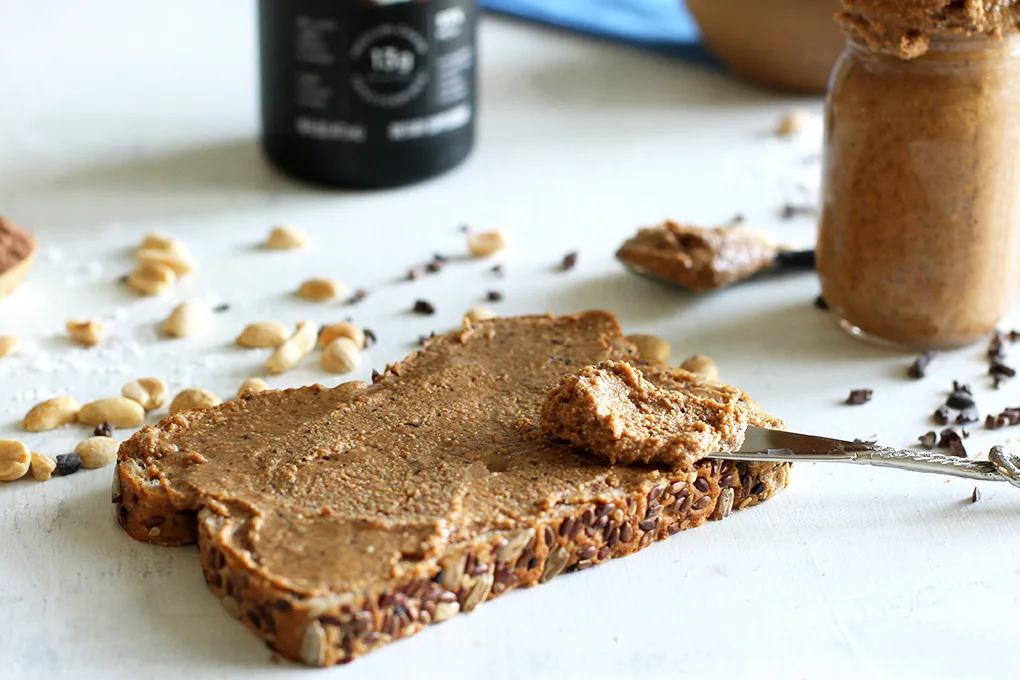 What is the best nut butter you've ever had?