ingredients
4 chicken thighs, bone in, skin on or off (we used both)
1 large sweet potato (about 350 grams), cubed
handful snow peas (about 100 grams), ends trimmed
2 tablespoons Organic Liquid Coconut Oil
1 tablespoon coconut aminos (or soy sauce if preferred)
1 teaspoon maple syrup
3 sprigs rosemary
salt, to taste
pepper, to taste
instructions
1. Preheat oven to 350 degrees.
2. In a small bowl, mix together 1 tablespoon garlic coconut oil, coconut aminos, and maple syrup.
3. Place sweet potatoes in another bowl, toss oil mixture over, and stir. Set aside.
4. Place chicken thighs and 1 tablespoon garlic coconut oil in a medium-to-large cast iron skillet pan. Over medium heat, sear chicken thighs for about 3 minutes each side, until the skin becomes golden.
5. Add in the potatoes, and allow the entire mixture to simmer for about 4 minutes.
6. Then, place rosemary sprigs on top, transfer cast iron pan to the oven. Bake for 20 minutes.
7. At 20 minutes, add in the snow peas, and bake for another 20 minutes, or until chicken is completely cooked through.
8. Serve immediately.
What is the best part of this One Pan Maple Garlic Chicken and Sweet Potatoes recipe in addition to the Organic Liquid Coconut Oil with Garlic it includes?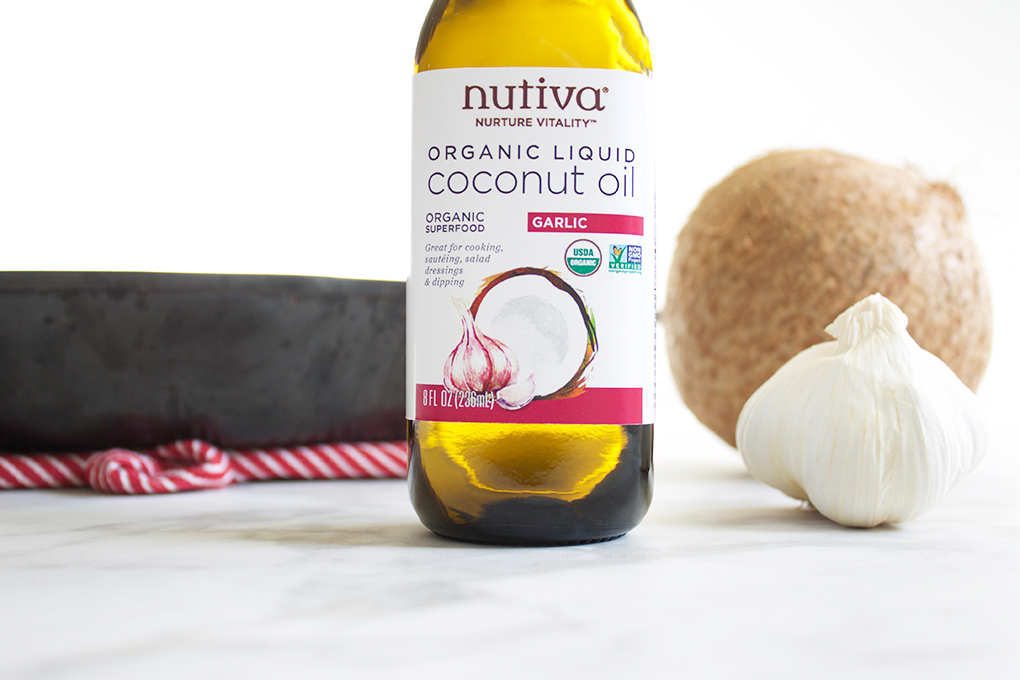 You guessed it! You'll only need one pan to make it.
Not only does the meal include just one pan, but the ingredients are minimal, while the flavor is maximal.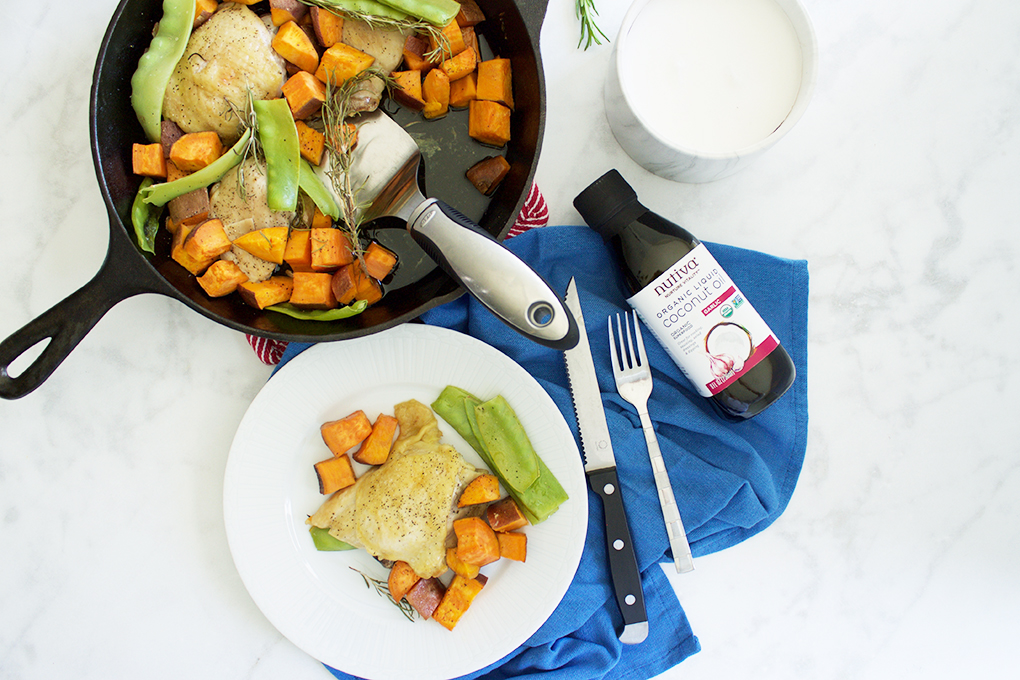 This dish includes many different flavors, textures, and overall variety that leaves nothing out.

One Pan Maple Garlic Chicken and Sweet Potatoes
Click HERE to save this recipe for later.

Looking for another simple full meal option? Try our Colorful Vegan Stir Fry.