A creamy, dairy and tree-nut free Hempseed Pesto recipe that can be served over pasta or as a spread.
1.5 cups Organic Shelled Hemp Seed
1 cup fresh basil, stemmed
 1/2 cup olive oil
4 garlic cloves
3 Tbsp lemon juice
3/4 tsp sea salt
1/4 tsp pepper
instructions
Place all ingredients in a blender, and blend until completely mixed together.
Serve.
Who needs Parmesan and Pine Nuts in their pesto recipe when you can make an incredible, dairy and nut-free Hempseed Pesto?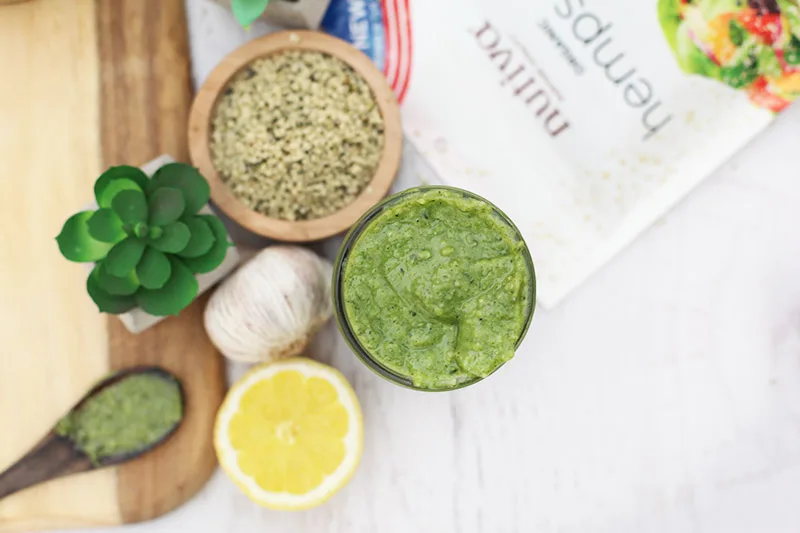 The secret to a great traditional pesto is the creaminess it provides. In order to achieve that without the use of Parmesan and Pine Nuts, swap in hempseed for an easy substitution.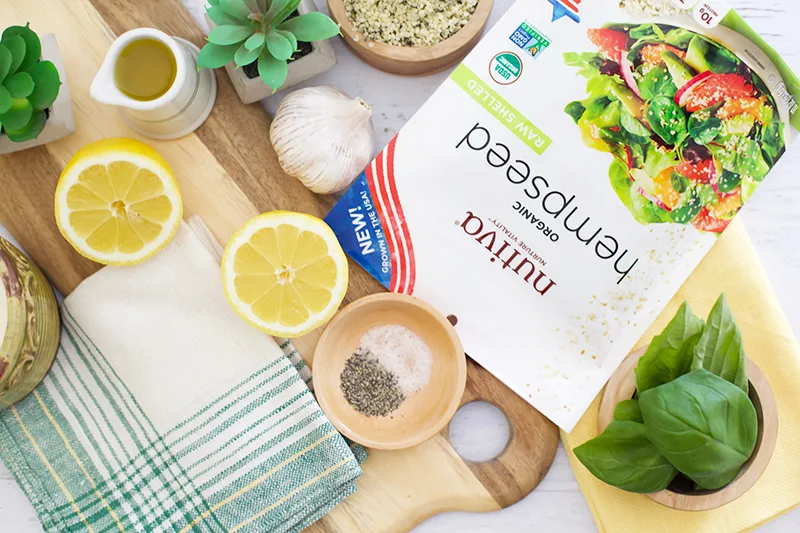 But why would you choose to use hempseed in pesto?
Click HERE to save this information for later.
Cultivated for thousands of years throughout Asia and the Middle East before finally making its way to Europe and then the Americas, hemp is an extremely versatile and hardy plant.
The world's most nutritious seed
Rich in protein
Perfect 3:1 ratio of Omega-3 to Omega-6
Loaded with all 20 amino acids, including the 9 essential
Rich in iron, phosphorus, magnesium & zinc
Easily-digested source of protein
What makes the Nutiva hempseed even better?
It is USDA Certified Organic, Non-GMO Project Verified and vegan, and ours is now grown in the United States, produced in Colorado.
Hempseed is the perfect addition to make a creamy and nutrient-dense pesto sauce.
Grab these Hempseed Pesto ingredients, and get ready to try your new favorite pesto recipe.
Click HERE to save this recipe for later.
Watch how easy it is to make Hempseed Pesto (and click HERE to save this how-to recipe video for later).
Try the Hempseed Pesto over penne noodles, zucchini noodles, or even as a vegetable dip.
Looking for more ways to use hempseed? Try using it to make your own hemp milk, a hempseed hummus, flatbread, or even just as a summer salad topping.
Let us know in the comments below if you try this recipe!